This October half-term, why not take the family to Copenhagen? With flights at just £25 return, a quick jaunt across the North Sea will transport you all to a vibrant and trendy city with much to offer all generations.
Flights can be found from Luton with Ryanair or Easyjet, and mixing and matching the two airlines will give you flexibility. For example, the Ryanair flight is best-timed for your outward journey and Easyjet's evening flight home allow an extra day's sightseeing at no extra cost.
This trip can be done with only one night's accommodation cost. So, for a mere £200, a family of four have a delightful Danish package this autumn.
What's to do once you get there though...
The National Museum in Copenhagen is a real gem. Viking history comes to life and the adventures through the layers of Norse culture unravel in front of the children's eyes. Entry is free for under 18s.
Founded in 1843, Tivoli Gardens is where fun comes alive in the middle of the city. This amusement park offers thrills and spills for the young (and young-at-heart) yet there is an oasis of calm in the manicured plants and pathways which meander through the lush foliage.
The Statens Museum for Kunst (National Gallery) is another gem in this amazing city. Free for under 18s, the artwork displayed in this architectural masterpiece is second to none.
And, of course, what trip to Copenhagen would be complete without a visit to see The Little Mermaid and her pensive stare out to sea? Based on local boy Hans Christian Andersen's fairytale, this bronze sculpture is a dream for selfie lovers!
Another great thing to do in Copenhagen is to see the views of the city, and across to Sweden, from The Tower at Christiansborg Palace. An elevator rise to the top is free and allows you a bird's eye view of the capital.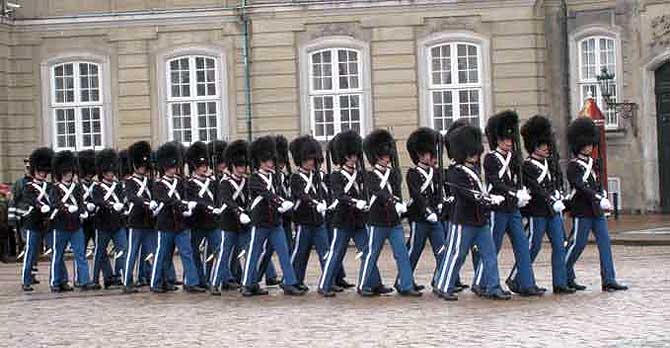 Pomp and heritage come for free with the changing of the guard at Amalienborg Palace. This event occurs daily at 12pm and the children will enjoy watching the
'Den Kongelige Livgarde' marching through the streets of Copenhagen.
Seriously consider Copenhagen for a quick getaway this October half-term. It won't leave you disappointed.